Happy Hemp Day!
How are you doing?
It's been a stressful for time for many and things are slowly starting to resume, or planning to be opening again, whether it's work, shops, schools, etc. we are all feeling a bit overwhelmed and need to learn to find the time for ourselves to chill out. So today I'm going to share some selfcare ideas to help you ditch the daily overwhelm and start living that healthy life you deserve.
Hope you enjoy reading and find helpful…
As always, any questions I am always here and happy to help, book a free chat below with myself and let's get you started on your own healthy journey.
Looking for a luxurious way to relax and get some much-needed anxiety relief?

Look no further than CBD and Epsom Salts.

You know how an Epsom salt bath can help you relax and unwind while help soothing the nerves?

Combined with CBD, it works much in the same way and are very similar to regular Epsom bath products, except they've got that magic cannabidiol ingredient that takes the bath experience to another level entirely.

If you're looking for seriously kick butt combo, try mixing some extra Epsom salts in the bath with a CBD bath bomb/dust.
Like with my products, you may even find CBD bath products where the two are already mixed in for you.
Epsom salt baths are known for helping people relieve soreness, stress, and promote healthy skin.
Add CBD to the mix and your just took your relaxation session to the max.
Huge bonus and something to keep in mind when looking to unwind at the end of a long day.
Lots of bath products available these days, including:
🌱 Bath Bombs
🌱 Bath Salts
🌱 Bath Dusts
🌱 Body Oils
🌱 Face Masks
🌱 Shampoo and Conditioners.
I offer a selection of Bath Dusts, Balms and Creams and Hair Care Products that could be used as part of your self care routine.
CBD topicals are applied directly to the skin, and come in the form of lotions, creams, balms and salves.
CBD topicals are excellent for providing localized relief in the affected area.
They are designed to be applied directly/absorbed through the skin by submerging into a bath infused with CBD, to the skin, where they are then absorbed through the skin, bypassing the digestive tract completely.
Research indicates the presence of an endocannabinoid system in the skin, which has been associated with several biological processes.
Because CBD topicals are applied/absorbed directly to the skin and bypass the digestive tract and liver, the effects can be felt much more quickly than any of the other delivery methods.
Generally, the effects of CBD topicals can be felt within 15-20 minutes (and sometimes faster) and can last for up to 6 hours. Surprisingly, topicals are known to be the longest-lasting form of CBD administration.
One of the first things to understand about how long the effects of CBD last is that CBD affects everyone differently.
How long it takes to feel the effects and how long these effects are experienced depend a lot on the person who's taking it.
Remember, CBD affects everyone differently and dosages between individuals will vary tremendously.
How Much CBD Should I Take?
If you're new to CBD, give it some time. You'll want to give your body some time to adjust to taking it.
Many people just starting out on their CBD journey try it for the first time and think they're going to immediately see extraordinary results, but this isn't always how CBD works.
Now to be sure, some people do see extraordinary results the first time (and we love hearing those stories), but remember that CBD affects each person differently.
It's best to give your CBD regimen some time before determining how long various methods of administration work for you.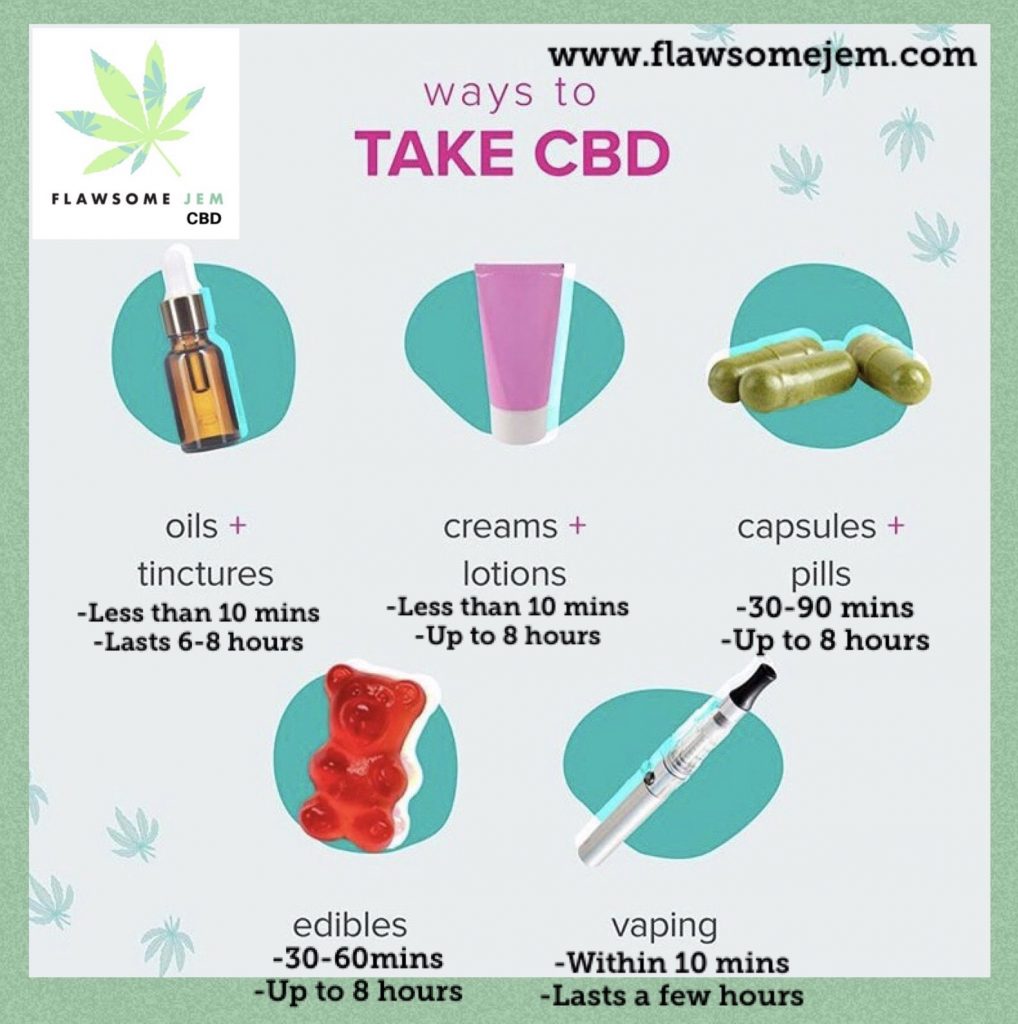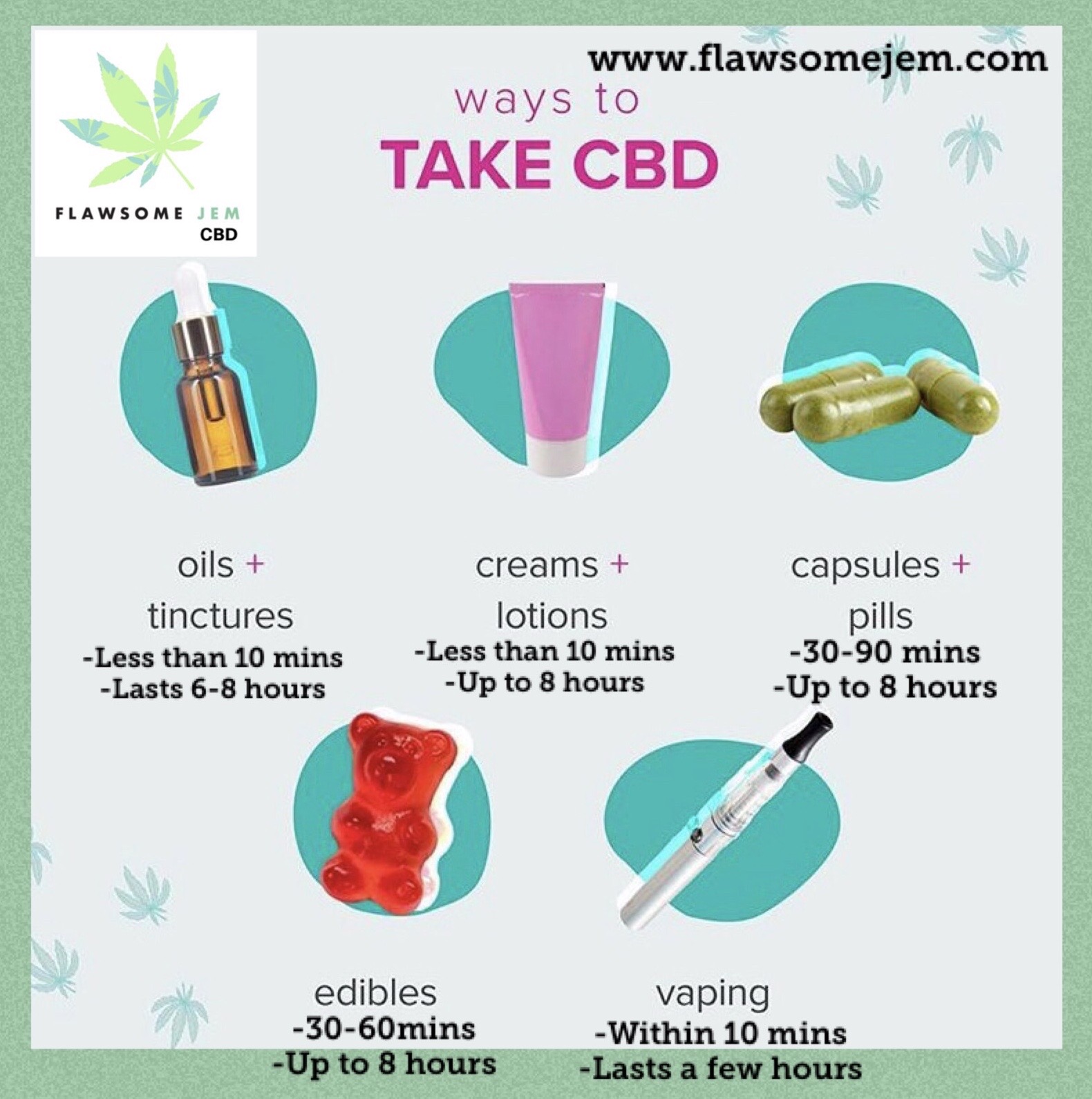 Pure indulgence with these bath dusts from Flawsome Jem.
Relieve those aches and pains after a long day….
Drift into a deep and relaxing sleep…
Feel revived!
Which will you choose?
Vegan friendly!
4 scents to choose from:
Bubblegum,
Blue Lagoon (NEW),
Twilight,
Sweet Dreams.
All bags contain 100mg of CBD in an 80g bag.
£9 a bag or 3 for £20!
Use the whole bag or split into 2 or 3 baths.
-Depends how much you feel you need!
-Doesn't stain bath either despite the bright colours!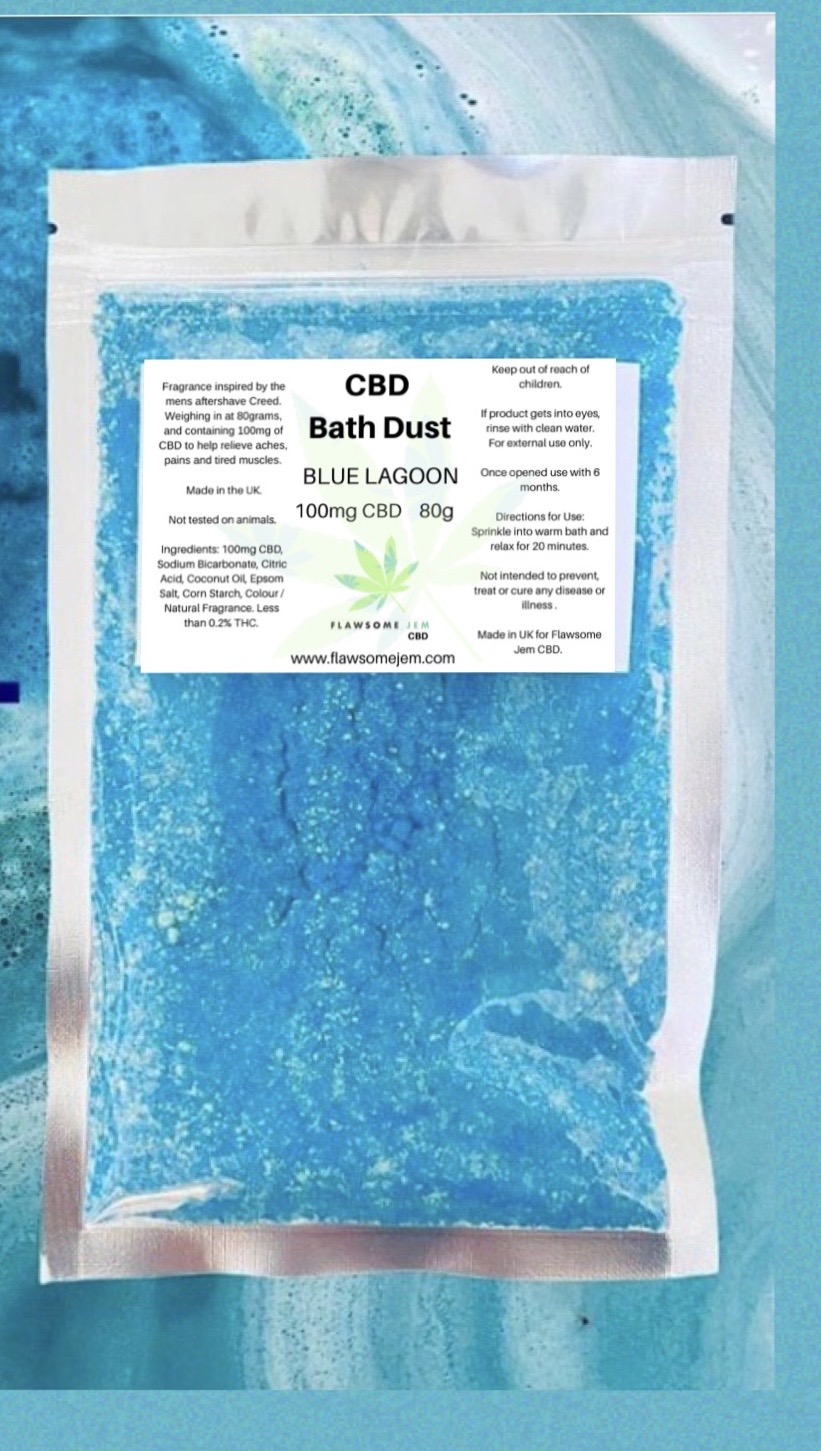 There are so many products on the market these days, it can be a minefield.
Let me help you cut through the confusion. book a free no obligation chat with me below!
Hope you enjoyed reading and found helpful. If you would like to learn more about anything hemp, cannabis or CBD related, let's chat!
You're Flawsome!
Lots of love,
Jem xoxo
PLEASE NOTE: CBD is neither a medicine nor a cure for any illness and by no means do we make any medical claims. CBD can help to maintain and support your health and a healthy lifestyle.
I am not making any medical claims in this or any of my other publications. All content I produce, is purely for educational purposes and for sharing my own personal knowledge and experiences of CBD.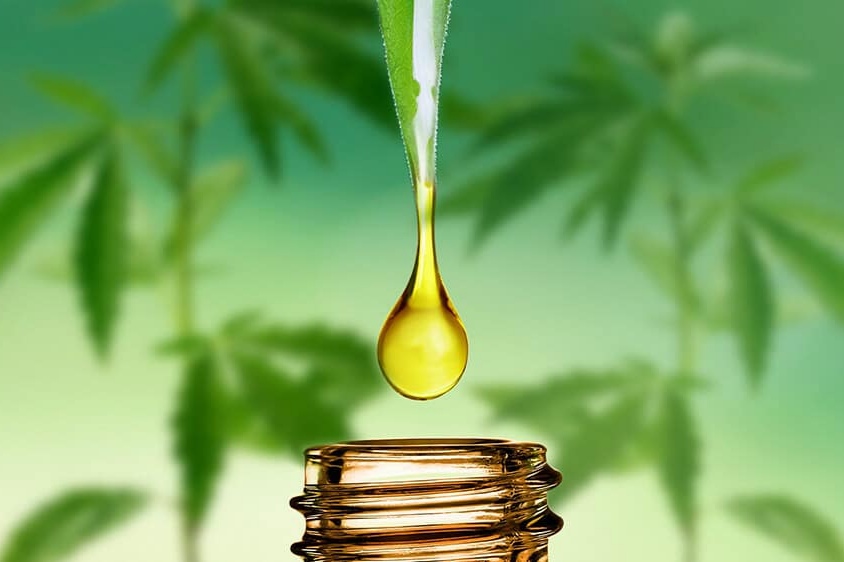 Helping Stressed Out, Overwhelmed Mums to Ditch the Overwhelm, Look and Feel Healthier so You Can Start Living the Healthy Life YOU Deserve! Let's Find You Again! Lots of way I can help you: -121 & Group Coaching & Support, - Recipe Books & Meal Plans, - High Quality Lab Tested CBD Products. Book a Free No Obligation Chat with me today...!
Do you need to Chill Out?