Happy Hemp Day!
How are you doing?
So January 1st 2021, my new flavourless broad spectrum water soluble CBD drops are launching, so today I thought I'd hop on and share more about water soluble CBD and why use!
Hope you enjoy reading and find helpful.
As always, any questions I am always here and happy to help, book a free chat below with myself and let's get you started on your own healthy Hemp & CBD journey.
Why Use Water Soluble CBD?
Simply put, "water soluble" means "able to be dissolved in water."
And although no one was talking about water soluble CBD until very recently, it makes sense that CBD water solubility is gathering more and more attention.
If your body can't easily absorb something, you need to consume more of that something to get the desired results.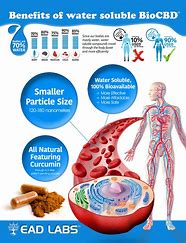 Recent Research on Water Soluble CBD:
Recent research has shown that, when CBD is engineered to be water soluble, the amount of CBD that reaches the bloodstream is increased. When bioavailability is increased, more CBD makes it through the metabolic procedure, resulting in an actual reduction of serving size.
The water solubility of CBD has been gaining more attention as scientists and researchers look at the best ways of CBD absorption in the body. Rather than receiving a mere 10% of what's ingested, the body can absorb more when something is water soluble. Hence, when CBD is water soluble, your body simply receives more of what you've taken. When CBD isn't processed to be soluble in water, the body doesn't have the opportunity to absorb as much as it can. What's left is passed through the bowels or urine, essentially wasted because the body wasn't able to take in all it could.
Poor bioavailability, uneven distribution in the body, and oxidation of CBD oil all become a thing of the past when CBD is made water soluble. With a water soluble compound, the body can absorb more, CBD is distributed evenly throughout the cells in your body, and it does not break down when exposed to air.
The benefits of Using a Water Soluble CBD:
If CBD is water soluble, it can be more easily absorbed by the body. Think about it: oil and water don't mix. This makes it a little difficult for the body to fully absorb CBD when it's ingested in oil form. If you're taking CBD, it should be water soluble in order to work most effectively.
In the case of smoking or vaping CBD oil, this obviously isn't the case as these methods of ingestion work to absorb differently in the body.
If you're taking CBD in liquid form or in a capsule, however, the importance of CBD water solubility can't be stressed enough.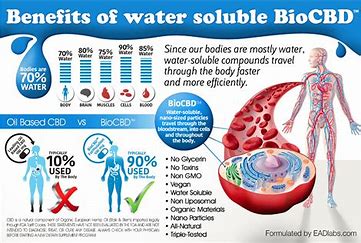 Reasons to Choose a Water Soluble CBD:
1.It's Very Effective
Your body is going to absorb water soluble CBD much easier than CBD that isn't bioavailable. Less CBD is needed to harness the same results.
2.It's Safe
Taking too much of anything is unsafe. Even drinking too much water can be harmful for the body! When CBD is made water soluble, you're ensured that you're not taking too much. Your body is absorbing exactly what it needs even when smaller doses are taken.
3.It's a Great Value
Although they are becoming more affordable, CBD products can tend to be costly. When CBD is water soluble, however, less is more. This means you're not spending nearly as much money to get similar results.
How is Water Soluble CBD Made?
To make water soluble CBD, it's necessary to alter the important compounds found in CBD with another substance to create extremely small water soluble particles. While this can be done chemically or through the use of detergents or solvents, there are natural ways to produce water soluble CBD.
Developed by Evolved Ayurvedic Discoveries is a way to increase CBD oil bioavailability. Here, a method was made to "encase a molecule or compound inside an all-natural molecule of curcumin and build a hybrid molecule that makes an insoluble formulation into a water soluble powder."
Basically, this means that the active compound found in CBD was combined with curcumin (a component of turmeric) to make another compound that would dissolve in water. This all-natural method of bioavailability is a breakthrough when it comes to water soluble CBD. This process is found to be the most natural way of making CBD water soluble and has opened up an entirely new field when it comes to taking CBD.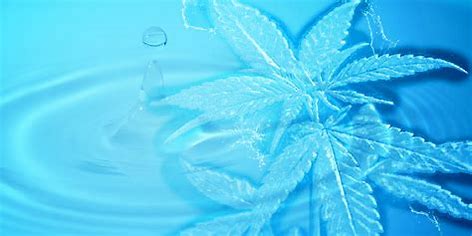 Although there has been a lot cannabinoid research, water soluble CBD is an entirely new discovery with research and production in its infancy. This exciting discovery of the ability to produce water soluble CBD, however, is showing promise for an even brighter future when it comes to taking CBD.
Water soluble CBD has the potential to revolutionize the way you take CBD. No more second-guessing serving sizes or wondering if you're getting the right amount for your needs. With water soluble CBD, you know exactly what you're getting with the peace of mind that it is easily absorbed by the body in the most effective way possible.
This is an entirely new arena for CBD consumption, and many new products are beginning to make their way to the market.
PRE ORDERS YOURS NOW! Launching Friday 1st January 2021!!
Flawsome Jem 1000mg Water Soluble CBD Drops.
1000mg of Broad Spectrum CBD in a 10ml bottle, 10% CBD.
THC FREE.
TASTELESS
INCREASED BIOAVAILIBILITY
CAN BE USED IN HOT / COLD DRINKS.
INGREDIENTS:
Purified Water, CBD Distillate, MCT Oil, Quillaja Saponaria, Soy Lectithin, Citric Acid, Sodium Benzoate.
SUGGESTED USE
Use in hot or cold drinks as required. Can also be used under tongue.
Approx 8mg per drop.
1000MG water soluble CBD drops, you're getting a well-made product that is formulated for maximum benefit. As one of Leading brands, you can also trust that you're getting premium quality.
Our products include components that support wellness and balance, including phytocannabinoids, flavonoids and terpenes. These broad-spectrum CBD components may be able to boost your lifestyle, and are easy to use even on a day-to-day basis. Hemp-based phytochemicals may also support a wholesome, balanced mind/body complex.
* Encouraging enhanced cognition and focus
* Offering an organic, non-GMO formulation with no chemical solvents
Our brand is centred on quality and customer satisfaction. We pride ourselves on offering products that offer an enjoyable way to take control of your health and wellness. Our processes don't include complex chemicals or diluted solvents, but instead, we give you great organic ingredients derived from Our USA-grown hemp plants in carefully selected farms .
When you invest in this Water Soluble CBD drops from Flawsome Jem CBD , you are genuinely getting a glimpse of the fertile fields in Northern California and Colorado where we source all of our products.
Furthermore, you can trust that our CBD oil tincture has been manufactured with high-grade hemp materials. The farmers who grow our hemp harvest from fields that contain no pesticides or harmful chemicals, and once gathered, the materials are sent for three tier laboratory testing where they undergo a closed-loop supercritical CO2 extraction process. We use highly pressurized carbon dioxide extraction techniques, which allows us to incorporate the most useful phytochemicals from the hemp materials.
In short, we utilize naturally-occurring CO2 because we want an end result that lacks toxic chemicals and is the cleanest products available on the market when customers buy CBD from us. Our process derives key terpenes from the hemp plants, and also yields maximum phytocannabinoids. In turn, this allows users to get the most from our products.
We ensure the highest standards in quality control, and strive to deliver a high-quality product that can support healthier habits – and a better you.
You can purchase our complete range of powerful and high-quality extracts through our online CBD store. These products are efficient, high quality, and enjoyable to use.
There are so many products on the market these days, it can be a minefield.
Let me help you cut through the confusion. book a free no obligation chat with me below!
Hope you enjoyed reading and found helpful. If you would like to learn more about anything hemp, cannabis or CBD related, let's chat!
You're Flawsome!
Lots of love,
Jem xoxo
PLEASE NOTE: CBD is neither a medicine nor a cure for any illness and by no means do we make any medical claims. CBD can help to maintain and support your health and a healthy lifestyle.
I am not making any medical claims in this or any of my other publications. All content I produce, is purely for educational purposes and for sharing my own personal knowledge and experiences of CBD.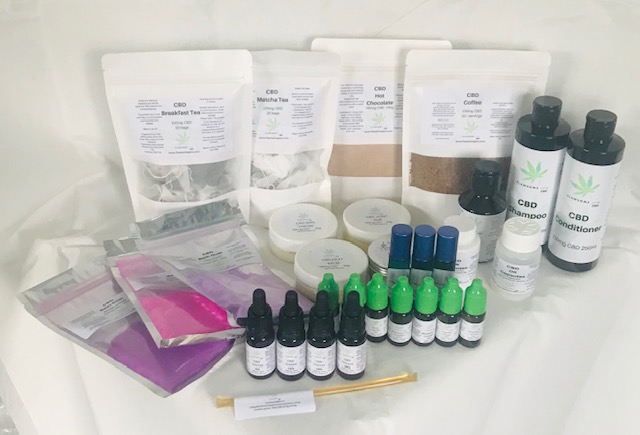 Ditch the Overwhelm, Look & Feel Healthier Forever!
Start Living that Healthy Life You Deserve!
I can help in a variety of ways including;
High quality CBD Products,
121 & Group Support & Coaching,
Hemp & CBD Education.
Start Living the Life YOU Deserve!
Water Soluble CBD, Why Use?