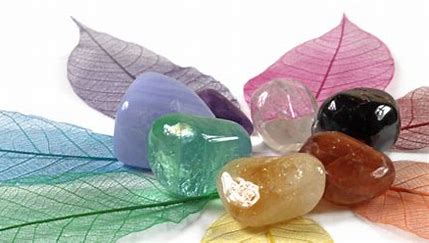 Let's talk about Crystals
Who doesn't love a crystal?
The famous game show from the 90s, the Crystal Maze, made one and all fall for the stone shown in the series. Since time immemorial, crystals have been known to have tremendous spiritual, metaphysical, and healing powers. Ancient Mayans, Incas, and Egyptians have been known to have used a crystal in many forms. Even today, crystals are being used in healing diseases and sickness, meditation, and numerous religious rituals as well. This article gives a complete account of the different types of crystals and their uses.
Scientists and spiritual believers both, claim to know how crystals work. But, their perceptions are totally different and equally unconvincing. In spite of this, today, thousands of people all over the world use crystals to get relief from various mental, emotional, and physical troubles. The very first instance of using crystals in healing can be traced back to Atlantis, the ancient island in the Atlantic that Plato said was destroyed by a quake. Since then crystals became important for the people of nearby civilizations who started believing in a crystal's immense powers. Modern-day crystal therapy practitioners believe that its ability to act as an energy conductor, facilitates focusing of energy through a person's thoughts to stimulate both physical and mental healing. Following are the other uses of crystal:
The following list comprises crystalline forms of various stones that are believed to have various beneficial properties, there are many, many more, which I'll share with you soon. (Not intended to replace licensed medical or physiological treatment.)
| | |
| --- | --- |
| Aquamarine: | Believed to benefit the heart and immune system, has a calming effect, reinstates confidence and uplifts the mood, releases anxiety, fear, and restlessness. |
| Carnelian: | Affects the circulatory system, kidneys, sexuality, physical energy, reproductive system, arthritis, and pancreas in a positive way. |
| Coral: | Used as a decorative. Is used to heal disorders of the muscles, blood, thyroid, metabolism, bones and tissue regeneration. People with high blood pressure should avoid using it. |
| Diamond: | Increases personal clarity and trust. Amplifies attitude, strengths, prosperity, generosity, and love. |
| Emerald: | Used to deal with problems of the respiratory system, heart, blood, blood sugar levels, and eyesight. Ensures growth, peace, patience, love, and honesty. |
| Jade: | Has a positive effect on the heart, immune system, and kidney, and cleanses the nervous system. Builds courage, knowledge, compassion, emotional balance, generosity, harmony, and longevity. |
| Lapis Lazuli: | Reduces anxiety, restlessness, shyness, nervousness, hearing disability, pituitary disorder, and inflammation. Aids in mind expansion, intuition, creativity, and maintaining a spiritual connection. |
| Rose Quartz: | Ensures an emotional balance, love, peacefulness, forgiveness, and high self-esteem. Heals the soul emotionally, relieves stress, fear, and anger. Aligns the state of mind and body mentally and emotionally. |
| Ruby: | Deals with problems of cholesterol, blood clots, and impotency. Stimulates circulation, love, confidence, stamina, leadership, and triumph. Intensifies all emotions. |
| Sapphire: | Reduces fevers, nosebleeds, and problems related to hearing, communication, depression, and mental stability. |
Crystals are known to affect each individual in a unique way. Refrain from using others' crystals and do not let anyone else touch yours. It is also a good practice to thoroughly cleanse it before every use, to get rid of any stored energy. 
Crystal & Meditation Workshop & Crystal Meditation with Flawsome Jem.
Instant Access!
** DISCOVER THE MAGICAL POWERS OF MEDITATION & CRYSTALS – AN UNSTOPPABLE COMBINATION! **
Learn all about mediation, crystals, why meditate with crystals, how to mediate with crystals, some crystal info ending with a powerful rose quartz crystal mediation…
Get instant access to this powerful workshop & crystal meditation now!
** BONUS: FREE CRYSTAL & MEDITATION GUIDE **
Start living your best life with CBD & Flawsome Jem.
I'm Jem aka Flawsome Jem! I'm a CBD Health Coach, empowering you all things health, CBD, meditation, crystals & self care, so you start living your best life forever! I can help you live your best life in a variety of ways: - Award Winning CBD Products, - Empowering Courses & Masterclasses, Group Coaching, My own books: Being Flawsome! & CBD Guide & 180 Day Tracker (both available now on Amazon, worldwide, in paperback & hardback.) You can follow me and my journey on Facebook & Instagram, via the buttons below.