Meditation is extremely beneficial for every part of our being—our mind, our body and our spirit. It helps us to relax, clears our mind and releases negative energy and unwanted thoughts. Using meditation crystals is a powerful way to deepen your meditation, as well as achieve a specific outcome during your meditation. On a spiritual level, learning how to meditate with crystals can help to raise your consciousness and awareness, deepening your intuition and bringing insight.
Whether you're a frequent meditator or you're just getting started, and regardless of how long you've been working with crystals, bringing these two energetic practices together unlocks a new way to take care of yourself. And with so many different meditation stones available, there's truly a crystal for every kind of meditative experience you could wish for.
If you're not sure what your goal for your meditation practice is, it's fun to experiment and meditate with different healing stones and crystals to get a feel for their energies and how they can enhance your practice. Once you pick up on the different combination of energies, you can begin to incorporate a variety of different meditations into your daily life. And while there are some stones that are particularly useful, any stone or crystal can be used for meditation.
Let crystals be the tools to help you start and maintain your meditation practice, connect with a specific intention or goal, and move into deeper states of meditation.
The more you begin to practice meditating with crystals, the more you'll want to experience different energies.
Using Crystals as part of your meditation routine:
There is no right or wrong way to meditate—just as there is no right or wrong crystal to use. And while everyone's meditation preferences are unique, there are a few very popular ways you can learn how to meditate with crystals. Some of the best ways to utilize your meditation crystals during your meditation are to 1) hold them in your hands while meditating or 2) lay them on your body, ideally so that they touch your skin. If you are new to meditating with crystals, here is a simple daily meditation with crystals to use to help you get started:
First, find a quiet space where you feel comfortable and relaxed.

Sit quietly with the healing stones or crystals that you wish to use nearby.

Close your eyes and quiet your mind, focusing your attention on your breathing

Pick up the crystals or stones and hold them comfortably in your hands.

Imagine your awareness spiraling down into the stone, feeling the energy of your crystal.

Breathe in the highest white light, and let the crystal's energy fill your mind and permeate your senses.

Visualize your intention. Your crystals and stones are listening.

Relax your mind and your body. Sit with your crystals as long as you need.

When you are finished, and feel completely relaxed and at peace, complete the grounding process by seeing all aspects of your awareness spiraling back out of the crystal and into your body. Feel yourself connect with the Earth and your body.

Open your eyes and take a few deep breaths.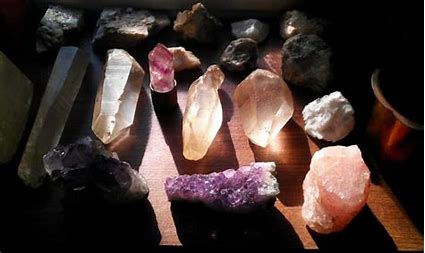 Crystal & Meditation Workshop & Crystal Meditation with Flawsome Jem.
Instant Access!
** DISCOVER THE MAGICAL POWERS OF MEDITATION & CRYSTALS – AN UNSTOPPABLE COMBINATION! **
Learn all about mediation, crystals, why meditate with crystals, how to mediate with crystals, some crystal info ending with a powerful rose quartz crystal mediation…
Get instant access to this powerful workshop & crystal meditation now!
** BONUS: FREE CRYSTAL & MEDITATION GUIDE **
Start living your best life with CBD & Flawsome Jem.
I'm Jem aka Flawsome Jem! I'm a CBD Health Coach, empowering you all things health, CBD, meditation, crystals & self care, so you start living your best life forever! I can help you live your best life in a variety of ways: - Award Winning CBD Products, - Empowering Courses & Masterclasses, Group Coaching, My own books: Being Flawsome! & CBD Guide & 180 Day Tracker (both available now on Amazon, worldwide, in paperback & hardback.) You can follow me and my journey on Facebook & Instagram, via the buttons below.